Created by Software-Heroes
ABAP- BOPF Creating test data
To test the functions and the model, we fill in the article the BOPF with the first test data. How it works, we'll show you today.
Creating, reading and deleting the data can easily be done via transaction BOBT. Getting the first records in the tables is no problem for you after this article.
BOBT
After calling the transaction, you usually get a blank screen and you have to choose your model first. With the arrow down you can select your object and you should get the following picture.
With a click on the white page button, you can create a new empty record and fill it with values. If you want to create an entity below this dataset, then you have to press the following button. Here are all nodes of the BOPF available, which are located under the current node. As soon as you have selected a node, you will get an empty table again, since no dataset has been created yet.
If you have created a contract, you can see the entire structure of nodes and subnodes in the navigation tree.
Data
As a summary of the entries made, we show you once again the test data we have created for the contract.
In the upper part are all data with external representation, the leading zeros are missing here for example. The lower part shows the data with the leading zeros, where you can always find the internal data. The lower part is also the detailed representation for the marked record, if there are several other records.
Read
For reading the datasets, only the standard function is available. This gives the possibility to read directly via the key of the data record. The function can be found under the folder icon on the left side of the screen.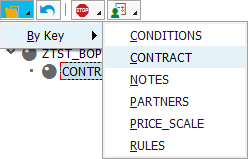 It will open a popup, which is still empty at the beginning. With the button for a new element, we get a blank line in the list. After entering the non-speaking key (GUID) and confirm, the record is loaded.
Conclusion
Creating test data is very easy with transaction BOBT. This provides all the functions of the framework and you can use it to create the lower nodes data. Unfortunately, this does not yet work properly to find records. How this works, we'll show you in the next part of the series.
---
Included topics:
BOPF
Test data