Created by Software-Heroes
ABAP - BOPF Quick Guide
You need a quick introduction to the SAP Business Object Processing Framework (BOPF), we have the right guide for you here.
We have recently been working on our series on the subject of "Business Object Processing Framework" (BOPF) and have bundled the knowledge in one document for you. We revised the format and removed some minor errors from the series.
Amazon
The version is currently available on Amazon in German and English. If you're a Kindle Unlimited customer, you can get and read the book for free.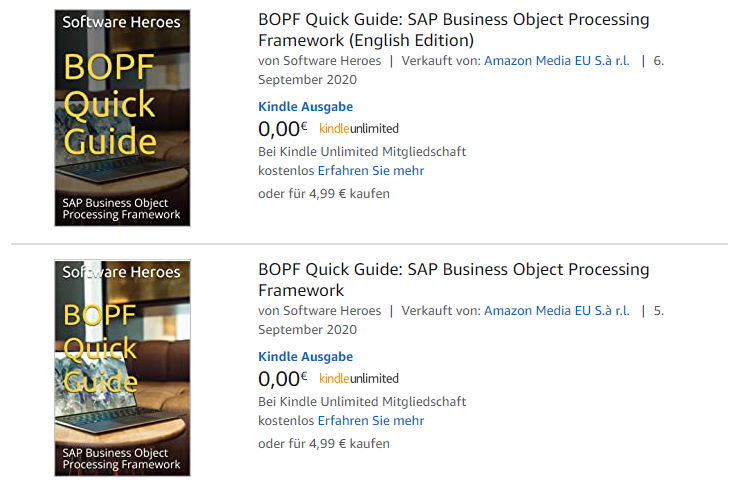 Paperback
We are currently also working on the implementation of the e-book as a printed version in the form of a paperback, because not everyone likes to read on a monitor. For this we will adjust the script a bit and prepare the images and code examples for you accordingly.
You will then be able to order and enjoy the knowledge in paper form in the usual quality.
Content
The content is based on the series on our blog and bundles the individual articles and resources (source code and images) in one book. In doing so, we generally go into the topic of BOPF and the transactions, as well as what the framework exactly is. Using an example, we will show you the implementation of the model and the individual actions and checks. You are also welcome to recreate the example step by step and thus understand it better.
The book shouldn't be too long and should teach you the most important points of BOPF in a short form, so that at the end you can start developing directly to gain your own experience.
Conclusion
If you are more a fan of printed material, you will unfortunately have to wait a little longer until we have prepared the script for the paperback, especially because there will be more additional information. Otherwise you can of course also take the e-book version.
---
Included topics:
BOPF
E-Book
Quick Guide